The maximum result with the minimum effort.
The most successful stores and chains all know one important fact: You must be in regular contact with your customers between transactions in order to be top of mind. So if e-mail marketing is so critical, why doesn't everyone do it? Sadly, there is a perception that it is complicated and time consuming.
That's why we created the Target Market™ e-mail marketing program. It is designed to give you the maximum result with the least effort. Target Market™ is an intuitive, feature-packed e-mail marketing module that fully integrates with your POS system. We have curated the best practices from successful restaurants like yours and baked those techniques into the program. This enables you to send the right message to the right customer at the right time with virtually the flick of a switch.
Activate Target Market™ and turbo-charge your business's brand awareness, customer loyalty and order frequency.
Simple-to-use Features
Customer Segmentation by Hundreds of Attributes
Single Customer Database
Event-triggered and Automated Campaigns
Surveys With Tagging Technology
One-time Use, Unique coupons
Campaign Reporting
Intuitive Schedule Tracking
Broad E-mail Configuration Capabilities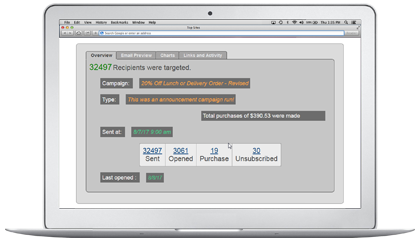 Let's talk about your business.
We're here to answer questions, solve problems and help you grow your business.